EARLY HARRIERS IN ENGLAND (1837)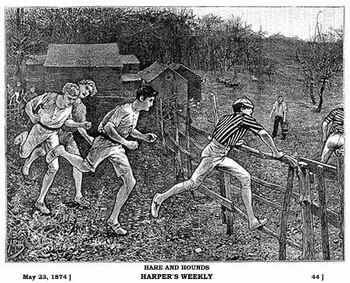 Hash House Harrier roots extend back to the old English schoolboy game of "Hares and Hounds," in which some players, called "hounds," chase others, called "hares," who have left a trail of paper scraps along their route across fields, hedges, streams, bogs, and hills.

One of the earliest Hares and Hounds events on record was the "Crick Run" at Rugby School in Warwickshire, England, first held in 1837. Hare and Hounds as an adult sport began in the fall of 1867 with a group of London oarsmen who wanted to keep fit during the winter. Also called "Paper Chasing" or the "Paper Chase," the game became very popular after its introduction on Wimbledon Common in 1868 by the Thames Hare and Hounds.

Early clubs called themselves "Hare and Hounds" or simply "Harriers."
THE FOUNDING "HASH HOUSE HARRIERS" (1938)
The idea of harriers chasing on a paper trail was not new to Malaysia in 1938, as there had been such clubs before in Kuala Lumpur, Johore Bahru, Malacca and Ipoh (the 'Kinta' Harriers). "Horse" Thompson, one of the KLH3 Founding Fathers, recalled being invited on a run shorty after his arrival in Johore Bahru in 1932, which chased a paper trail and followed basic Hash rules every week, but that club had no name and died out around 1935.

The other branch of our ancestry came from Malacca, where A.S. ("G") Gispert was posted in 1937 and joined a club called the Springgit Harriers, who also operated weekly under Hash rules. "Torch" Bennett visited Gispert some months later and ran as a guest on a few runs.
THE ACTUAL HASH HOUSE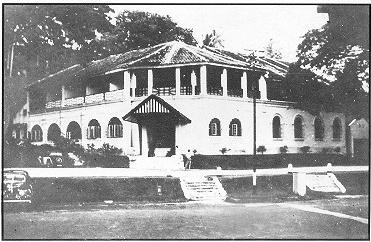 The 'Hash House' was the derogerative nickname given (for its unimaginative, monotonous food) to the Selangor Club Chambers in Kuala Lumpur, by the British Civil Servants and businessmen who lived and dined there between the two World Wars, when it had become something of a social centre of the times. Sadly, the 'Hash House' was demolished around 1964, to make way for a new highway, though the buildings housing the original stables and servants quarters are still in existence.
THE WAR AND THE REVIVAL (1939-1945)
By 1938, "G" Gispert, "Horse" Thompson, and "Touch" Bennett had all moved to K.L. and, joined by Cecil Lee, Eric Galvin and H.M. Doig, they founded their own club, following the rules they had learned elsewhere. Gispert is credited with proposing the name 'The Hash House Harriers', when the Registrar of Societies required the gathering to be legally registered. Other early members included Frank Woodward, Philip Wickens, Lew Davidson, John Wyatt-Smith and M.C. Hay. After 117 runs, KLH3 was forced into tempory hibernation by the arrival of the Japanese, and sadly, "G" Gispert did not live to see his extraordinary creation revive, being killed in the fighting on Singapore island on February 11 1942. It took nearly 12 months after the war for the surviors of the HHH to reassemble. Bennett put in a claim for the lost Hash mugs, a tin bath and two old bags from Government funds, and run No. 1 was a trot around the racecourse in August 1946.
MODERN HASHING (1960s and on...)
It wasn't long before the hash began slowly spreading around the world. Former members of the original Hash House Harriers started a hash in 1947 near Milan, Italy but, strangely, it took another 15 years for the next H3 Chapter to be founded, in Singapore in 1962. This was fast followed by Kuching in 1963, Brunei, Kota Kinabalu and Ipoh in 1964, Penang and Malacca in 1965. Perth, Australia, was the first 'overseas' Chapter, formed in 1967, and even in 1974, when KLH3 had run No. 1500, the HHH was only 35 Chapters worldwide. Now the Hash world has over 1,200 active Chapters, in some 160 countries, and this despite the total absence of any central organisation.

taken from the Kuala Lumpur Hash House Harriers 1500th Run Pamphlet, June 23rd 1973

The Hash House Harriers were founded in a moment of post-prandial inspiration at the Selangor Club Chambers, about 1937/38, by the inmates, who included myself, E.J. Galvin, Malay Mail, H.M. Doig (H&C - killed in an air crash just before the Japanese War) and A.S. Gispert of Evatt & Co. Gispert was the real founder - a man of great wit and charm, who was killed only just returned from leave in Australia to rejoin the Volunteers. I am glad of this opportunity to salute his memory. He was a splendid fellow, and would be happy to know the Harriers are still going strong, and are as merry and bright as ever - or more so. Gispert was not an athlete, and stress was laid as much on the subsequent refreshment etc. as on the pure and austere running. It was non-competitive, and abounded in slow-packs. Life was then conservative rather than competitive.

The name was a mock allusion to the institution that housed and fed us. Later, Torch Bennett returned from leave, and produced order out of chaos - a bank account, balance sheet, and some system. But we prided ourselves on being rather disorganised - or the minimum organisation sufficed. The original joint masters were myself and "Horse" Thompson, still running somewhere - a past-master at short-cuts and the conservation of energy.

Celebrations were held in various places, and the first was in what is now the Legislative Council, then the Volunteer Mess. The oratory, I recall, was much the same as now.

Lew Davidson is an old member. Morris Edgar was one, but apart from Lew and John Wyatt-Smith I do not think there are any more ante-diluvians still running. Philip Wickens was also one who kept us going post-war.

We started up again after the War due to Torch Bennett who discovered a Bank Balance and put in a claim for War Damage on one tin bath, and two dozen mugs, and possibly two old bags (not members). We started by a small run in reduced circumstances round the race-course - then the horses were not much better.

The Emergency cramped our style but did not diminish our activities, and we were even called in for information on various by-ways in Selangor, but our period of usefulness to MI 5 was brief, and our information probably otiose. But the hares ran into two bandits at Cheras, who were later copped.

An Irish Accountant, Kennedy, drew up the Rules when we had to register as a Club, and he seems to have preserved the old traditions just as you do now. Selamat Tinggal H.H.H.

Kuala Lumpur . . . . . . . . . . . . . . . . . . . (C.H. Lee)
24th Octobert (sic) 1958.